There are many ways to get involved with RDA.
You can donate or sponsor an RDA program or event, volunteer at an RDA Centre or train to become an RDA Coach or you can raise awareness of RDA through your local club or school by researching and learning more about RDA
Sponsor RDA Programs and Events

Sport Australia is the government body that develops, supports and invests in sport at all levels in Australia. RDA Australia works closely with Sport Australia to develop our community participation and competition pathways. Sport Australia is our primary sponsor and funding body.

Joan Tonge first partnered with RDA in 2019 as blue ribbon sponsors of the RDA National Championships with a commitment to support the National competition until 2029.
AJ Gallagher is a corporate sponsor of RDA Insurance programs and Volunteer Recognition programs.
Wintec is a corporate sponsor of RDA events, providing gifts and prizes to support our Volunteer Recognition program and the RDA National Championships.
For more information about sponsoring RDA programs and events,
contact the RDA National Office on admin@rda.org.au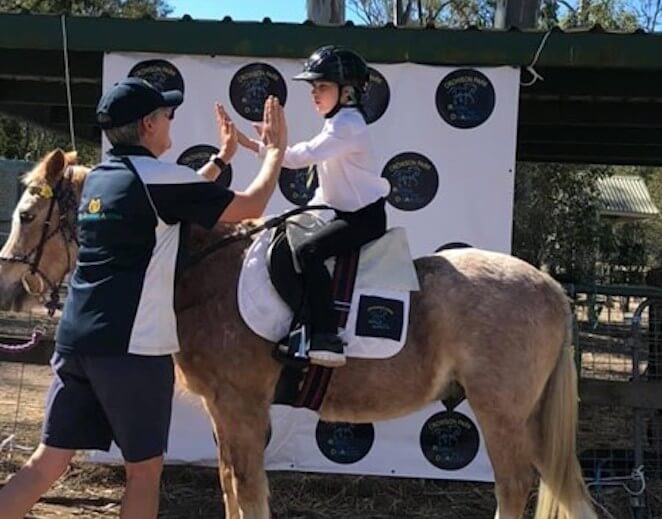 RDA coaches are qualified through the RDA National Coach Training Program, recognised by Sport Australia. They have skills in horse management, safety, medical conditions, first aid, teaching and selection and training of horses.
If you are interested in becoming an accredited RDA Coach please contact your local Centre or State Coaching Coordinator. Additional information is available from RDAA.
Conduct a Research Project
Applying to conduct a Research Project with RDA
Issues around research and people with disabilities, combined with the risks of working in an environment often involving both children and horses are complex. This information is provided to assist school students, secondary and tertiary students, lecturers and researchers for preparing and submitting research ideas to RDA for approval. It is important that the conduct of research considers the practical requirements of RDA programs such as the importance of the methodology being complimentary to the RDA program and not interrupting lesson time. Other issues such as obtaining formal informed consent for permission to participate must always be addressed before commencement, and other consent and "opting-out" protocols followed. The use of photography and video of any riders and other RDA participants (including volunteers and coaches) also requires formal informed consent due to legislated privacy requirements.
To ensure that RDA research is conducted in an appropriate and ethical manner the following documentation is required to be submitted for approval before any research commences.
Developing a Research Proposal
Submission of a written research proposal is required. You should include a brief summary of the research background, the questions to be answered, methodology (how you will conduct the research) and the expected outcomes. This should be a maximum of 300 words long and be submitted to RDA for approval.